Welcome to our new bi-monthly blog update. Here you can read about what PaCC has been doing to make sure the views of Brighton & Hove parent carers are heard
Feeding into Brighton and Hove Budget 2020/21
Every year PaCC challenges Brighton & Hove City Council about any proposed savings in areas that PaCC feel will negatively impact children and young people with special educational needs (SEND) in the city. PaCC is always keen to deliver the strong message that front line services for children and young people must be protected.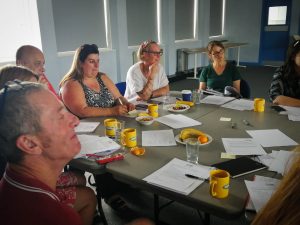 This year we have begun our budget work and are keen to let you know what we're discussing with senior leaders in the council. PaCC will be raising concerns in areas where savings are being proposed such as short breaks, contracted services and the Inclusion Support Service.
We'll be publishing a fuller statement on the budget soon.
Home to school transport
PaCC continue to represent the broader home to school transport community to ensure that a fit for purpose service is operational in Brighton & Hove and that an adequate budget is provided for this statutory service.
We presented our ongoing concerns to the Home to School Transport Members scrutiny panel on 23 January. These included: the impact on education and home life for families whose transport is regularly arriving late; the importance of timely and responsive communication when there is a problem and more transparency around the training that drivers have undergone. We also challenged some current routes and the appropriateness of vehicles used.
We stressed that children and young people/parent carer-centred application system must be co-produced with PaCC and time must be allocated to ensure this co-production is meaningful.
We are running home to school transport focus groups at the end of January to gather parents views and a survey will be going out soon too.
Improving the neurodevelopmental pathway
Parent carers know the struggles children and young people can face if they are diagnosed with ASC, ADHD or Tourettes. And they can face even greater challenges if they show signs of a neurodevelopmental condition but have no diagnosis. Children can fall through the gap between mainstream and learning disability services, families are not eligible for respite, and mainstream schools can struggle to accommodate their needs.
In 2018, health commissioners at Brighton & Hove Clinical Commissioning Group (CCG) reviewed children and young people's (CYP) neurodevelopmental services within the city, working closely with PaCC and mASCot.  It highlighted a number of gaps and issues in pathways, service provision and the very complex landscape that families need to navigate. After a long wait, funding for an improved neurodevelopmental pathway was agreed.
Part of this funding is aimed at enhancing the offer of family support courses and workshops. The CCG asked PaCC to consult with parent carers on what they would like to see in terms of family support. Although they had heard from a number of parent carers of children and young people with autistic spectrum conditions, they were keen to hear from a wider range of parent carers, particularly those with children with ADHD and Tourettes.
PaCC consulted widely.  PaCC partner group Fresh Youth Perspectives spoke with members of the Black, Asian and Minority Ethnic (BAME) community, we visited the Face2Face breakfast club and held focus groups in Moulsecoomb and Hangleton & Knoll. We also sent out an online questionnaire. The results have been collated into a report which will be used to co-produce an enhanced family support offer.
While the funding will not be sufficient to solve all the problems families face, it is a real success that parent carers have been listened to and this has translated into increased investment in neurodevelopmental conditions. Thank you to all of you who took part!
Join the PaCC!
PaCC now have over 400 members. If you aren't already a member of PaCC, you can join by filling out our membership form . We'll keep you up to date with all the latest developments in the SEND world. You'll also be invited to PaCC meetings on the topics that most concern you as parent carers. As a PaCC member you can have access to our Facebook Group where you can read the most current discussions and informative posts for parent carers and their families.