A celebration of people and organisations who have helped in this extraordinary year
What a year 2020 has been! Whilst it looks like we are slowly coming out of the worst of it (with schools reopening and lockdown relaxing), it was heartfelt and sometimes emotional to celebrate the 2020 PaCC Awards, which were postponed due to the pandemic.  Looking back into 2020, we realised that among all the chaos, unpredictability, isolation and, for many families, loss, there were also many people and organisations that were able to provide that much needed extra support to our SEND families.
A panel of three PaCC Reps and one PaCC Member shortlisted the high number of nominations we received during the past few months. On Monday 1 March, Fiona England, Chair of PaCC, hosted the virtual event, where the awards were presented to the winners. The ten awards were presented by Georgina Clarke-Green, Assistant Director, Health, SEN & Disability, Families, Children & Learning at Brighton & Hove City Council and by Katie Clarke, Senior Manager, Partnerships, Brighton & Hove Clinical Commissioning Group.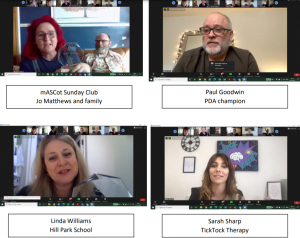 Read the full list of the 2020 PaCC Awards winners and why they were nominated:
PaCC Award for Excellence in Social Care Sector – Helen Powell Teaching Assistant at Downsview School, Brighton
"My daughter is wheelchair bound with severe learning disabilities and challenging behaviours. During Covid lockdown we quickly went into crisis and her little brother couldn't cope with her behaviours at home all of the time. We wouldn't be where we are now as a family together without Helen stepping up. Without her support we would not be the family we are today trying to manage a challenging child under the most challenging of circumstances."
PaCC Award for Excellence in Social Care Sector – Barnardo's Brighton & Hove Link Plus Short Break Carers, Hove:
"The carer helped me a lot during lockdown from March 2020 till Sept 2020. I am a single parent with severe disabled child with autism. She took my child out and drove him to the fields, walking in hills and feeling nature so he can still be out for fresh air and fun. With no family close by, or friends that can cope with the level of support our son needs, we are truly grateful for the help and care the foster carer has offered us especially over the last year."
PaCC Award for Excellence in Voluntary Sector – Jo Matthews and family who run Mascot Sunday Club, Portslade:
"Jo and her whole family are brilliant. My son was so sad and withdrawn but from the moment we got to the club Jo found him people to play with, themed sessions and bought special activities to help him get integrated. Jo's son plays with my son every week, always with a smile, always kind. Her husband is just the same. Jo has helped us get back on our feet and find some joy in other people again."
PaCC Award for Excellence in Voluntary Sector – Paul Goodwin, Pathological Demand Avoidance (PDA) Campaigner, Brighton:
"I have known Paul through his PDA Facebook page, for over two years. Paul's dedication and hard work to raise awareness of PDA is unprecedented. Even with his personal struggles he never gives up, helping people around him and caring for everyone. Paul is an inspiration to us all."
PaCC Award for Excellence in the Education Sector – Linda Williams, Teacher at Hill Park School, Portslade:
"Linda's teaching is tailored to each child and I can see the impact she's having on mine. It is not just her teaching but also her personal approach towards to whole family. She supports me and other parents who sometimes feel a bit lost; she's very empathetic and reassuring. Not sure were my family would be without her, my child is happy to go to school and as a result we are happy too."
PaCC Award for Excellence in the Education Sector – Richard Enticknap, Special Education Teacher at Central Hub Primary Unit, Brighton:
"My son, previously highly anxious, unable to attend his mainstream school due to huge overwhelm, had become withdrawn, avoidant, impulsive and unhappy, which also impacted on my own well-being. Richard worked with him all the way through the lockdowns, providing routines, teaching him social skills, building his confidence and communication skills. My son now has friends, he leaves for school happy every day for the first time in his life."
PaCC Award for Excellence in the Health Sector – Sarah Sharp, founder of Tictock Therapy, Newhaven:
"Sarah helps families around the local community and beyond by delivering therapy to children who have Tourette's Syndrome. Without Ticktock therapy I would not have a full understanding of Tourettes and how it all works and how I can help my child. With the therapy and information provided by Sarah many struggles can be averted or stopped by surpassing of the tics. Sarah is such a beautiful person inside and out."
PaCC Special Award for Excellence – The Team at Little Lambs Kindergarten, Hove:  
"As soon as my first visit to Little Lambs with my child, I felt we belonged and were welcome there. I always feel that all of the team genuinely enjoy my child's company and enjoy having him there. I have only ever seen children being kind, gentle and welcoming towards my child there. The staff always go out of their way to help me and be flexible. They are such a fantastic team, and it's rare to find this in a mainstream childcare setting."
PaCC Special Award for Excellence – Senay Smallwood, Director at Down Syndrome Development Trust, Seaford:
"The Down Syndrome Development Trust is the place where children with Down syndrome get support, access activities like music, sensory and outdoor activities, speech and language therapy groups, advice, training and resources for our families. Senay, who has a son with Down syndrome, dedicates herself to the project. I can definitely say that Senay and her project changed my life and my son's life too."
PaCC Special Award for Outstanding Contribution to SEND families in Brighton & Hove – Adrian Carver, former Executive Head Teacher at Downs View School, Link & Life Skills College  Brighton:
"This special award from PaCC Steering Group is in recognition of Adrian's relentless determination, passion and commitment to delivering outstanding SEND provision in the city over the past 16 years of Downs View Leadership. PaCC particularly wants to recognise the creation of a very specialist post-16 provision, Downs View Life Skills College, for students who previously would have left education."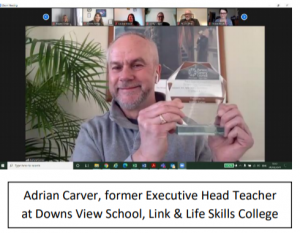 Find out more about our PaCC Awards here.